Hungary government clarifies Greek crisis comments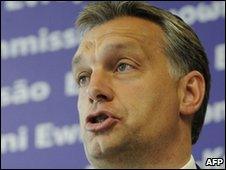 Hungary's government has moved to minimise the effect of comments by officials that the country faced a Greek-style crisis.
"The comments that have been made about this issue are exaggerated," said prime ministerial spokesman Mihaly Varga.
The Hungarian currency dropped 6% against the euro after government officials compared the country's fiscal position with Greece late last week.
The forint has since stabilised at about 288 to the euro.
Mr Varga added that a target budget deficit for 2010 of 3.8% of GDP, set by the International Monetary Fund, was still "achievable".
This is despite last week's government estimate that the deficit could hit over 7%.
The conflicting comments have come as the new Hungarian government prepares to negotiate with the IMF and the EU over the extension of a $25bn (£17bn) rescue package that the country received in October 2008.
The new government won a landslide election in April on a platform that included substantial tax cuts.
However, delivering these tax cuts, while also sticking to the IMF deficit target, looks to be a tricky task.
"It seems that the comments were geared towards preparing the populace for the fact that... the government will need to backtrack on its election promises," said Marc Balston, strategist at Deutsche Bank.
Mr Balston added that the negative market reaction last week partly reflected fears that the government may intend to water down the deficit target.
In light of the latest clarification from Mr Varga, this now seems unlikely.
Prime Minister Viktor Orban is expected to lay out exactly where the budget savings will come from - and what will be the fate of the promised tax cuts - in the Hungarian parliament on Tuesday.
For its part, the IMF does not consider the situation in Hungary to be too worrying.
"There seems to be no particular element of concern," the fund's head Dominique Strauss-Kahn said.
His comment was echoed by Eurogroup chairman Jean-Claude Juncker: "I do not see any problem at all with Hungary. I only see the problem that politicians from Hungary talk too much."
Markets had become unnerved on Thursday and Friday by comments from the new government about the state in which the outgoing Socialist government had left the public finances.
"In Hungary, the previous [Socialist] government falsified data," said another spokesman for Mr Orban on Friday.
"In Greece, they also falsified data. In Greece the moment of truth has arrived. Hungary is still before that."
Mr Varga described his colleague's comments as "unfortunate".
Market nerves were also reflected in a sharp rise in the cost of insuring against the risk of a default by Hungary on its debts.
Credit default swaps on Hungary increased by one percentage point a year to about 4%, and remained at this elevated level on Monday despite the government's counter-offensive.