Pupils visit Colombia on anti-drugs project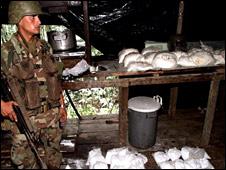 Two Edinburgh school pupils are flying to Colombia to see at first-hand the "misery and destruction" caused by the cocaine trade.
Andrew MacKinnon and Andrew Dove, fifth year pupils at Portobello High, will meet a victim of drug trafficking and see the drug's environmental impact.
They have been invited on a week-long visit by Colombian Vice-President Francisco Santos.
The invite follows a project they did on the Colombian drug trade.
Their study examined the impact on individuals, communities and wildlife as a result of violence, kidnapping, corruption, deforestation and pollution.
They arrive in Colombia on Monday.
Colombia is one of the world's leading producers of cocaine. For every two grams of cocaine consumed in Scotland, 8 sq metres of Colombian jungle are cut down, and, in the past 20 years, 2.2 million hectares of tropical forest have been destroyed to make way for coca plant.
Portobello High was chosen to join the trip due to the work it has been doing in support of the Shared Responsibility project, the Colombian government's campaign to reduce the demand for cocaine in partnership with the Scottish Crime and Drug Enforcement Agency (SCDEA).
The two pupils are "peer educators" who go into schools across Edinburgh to share what they have learned.
Det Insp Stevie Innes at the SCDEA said: "This is an excellent opportunity for these young people to see for themselves the true impact that illegal drugs has on communities in a producer country.
"The pupils have demonstrated a real understanding of the issues involved with drugs misuse and serious organised crime by taking those issues and interpreting them in ways which other young people can easily engage with."
Related Internet Links
The BBC is not responsible for the content of external sites.