How to throw the perfect World Cup party
By Claire Heald
BBC News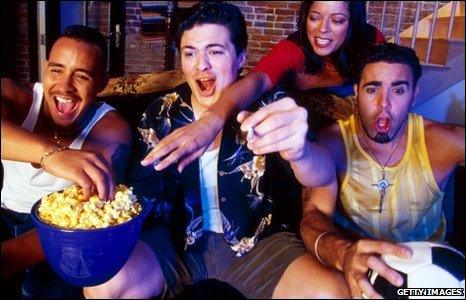 The World Cup brings a chance to get together with friends to watch the planet's finest footballers in action. But how to make it a perfect World Cup party?
There are two steps to setting out on the quest for the perfect party. First, it's a case of "how can I make this the ideal World Cup gathering..?"
Put yourself in the place of the guest and think about what they would like from the celebration. "Think about how you will make them feel welcome and say, 'this is your space for the next few hours, enjoy it'," says Sophie Saiman, director of party planning company EventAngel.
"Make things as easy as possible for them," she says. "People feel they've been looked after, if they have been looked after."
Then, set a budget. The British Retail Consortium estimated the 2006 World Cup in Germany boosted retail by £1.25bn. With spending on televisions, food and drink, replica kits and novelty items that is set to be repeated.
Working out how much to spend will dictate every other aspect of the plan - is it to be a barbecue with buddies at home, a room at the pub, a huge sports club or marquee event, or takeout burgers in front of the TV?
It is summer, even if it's raining. People love being outdoors when the weather is good and many think there are few things sadder than walking into the dim light of a pub on a sunny day.
So "indoor-outdoor space" is the answer, whether the venue is a pub or home. The television ideally needs to be inside, or in the shade, so everyone can see.
But an outdoor space, partly covered against the weather, means people can take a breather should the tension become too much.
If you're hiring a venue, say planners, have exclusive hire. It's a shame to have people walking in to your party from the street, and no fun for either side if they don't share a love of the beautiful game.
The venue affects who's invited. Is it open house at home? Ticketed in the pub? Guest list at the marquee?
One huge flat-screen television is the obvious obligatory centre-piece for any decent World Cup do. Television sales have already risen ahead of the tournament, partly on the back of well-timed discount deals, according to the British Retail Consortium.
Even planners more used to wedding and birthday celebrations admit flowers and candles are a waste of time here.
Instead, it's a call up for nice lighting inside and a disco after the match. Complement the decor with flags of the competing nations or inspirational images from previous competitions printed out and put on the walls - think Jules Rimet held aloft by Bobby Moore, Beckham's 2002 penalty or Michael Owen's 1998 goal against Argentina. Just avoid photos from penalty shoot-outs.
When there are a whole range of England shirts - even for dogs - on the market, can dressing up for a World Cup party be ruled out?
The occasion already has a theme, so it's probably not the time for fancy dress, say planners.
But for those thinking, unlike their pets, of branching out from a soccer strip, it might be hard to ignore the top-to-toe paraphernalia on offer.
England red and white imitation hair plaits, anyone? Three lions embroidered apron? World Cup national flag high-top trainers? Team colour flip-flops for babes-in-arms?
Or - although England coach Fabio Capello has ruled out any of the paparazzi shenanigans witnessed in Baden Baden in 2006 this time around - there is always the option of working the WAG look.
At the high end, waiting staff at a catered do will cut any queue at the bar, prepare and serve the food, clear away the debris and even keep the loos in order.
More realistically it's down to the great British barbecue: "Canapés are a no - a bit pretentious for football parties," says Sophie. "A barbecue or buffet is great because people can help themselves."
Running out of anything is a social faux pas, so do some sums. Factor in drinks - according to a survey from market research company Mintel in May, 31% of people who go to the pub will buy alcohol as a result of the World Cup and 29% food and snacks.
But what about anyone wanting to throw a party but feeling the pinch of the global economic downturn? Perhaps try the pub option, says Sophie. "If it's in a place where people can buy their own food, fantastic. If the budget's smaller, then you cut out the food, and you've solved that problem."
While the wealth of footballing nations and talent on show at the World Cup usually bring joy, watching your team can be a bit up and down - as any England fan knows.
So, how to maintain a party vibe should the half time score distress, or England look like crashing out in the group stage?
The football is the main draw, but events organisers recommend having other activities on hand to bring excitement should it be lacking in the game. Computer football games on the big screen can kill off pre-match nerves; funfair-style target practice in a garden goal is a low tech option; try a table football or Subbuteo tournament if space is more limited.
But don't worry about the...
Almost three quarters, 71% of UK adults, are planning to watch the World Cup, and that includes more than 60% of women, say Mintel. Only 13% of viewers will switch off if England go out before the final - so a party at any stage of the tournament is a fairly safe bet.
Don't worry about those who claim not to have any interest in the game, says Sophie, you've thrown them a party anyway. "The World Cup is something most people like. You can invite people, but they can choose not to come, just be clear on the invitation that it's a World Cup party."
Related Internet Links
The BBC is not responsible for the content of external sites.