Israel apologises for spoof video mocking Gaza flotilla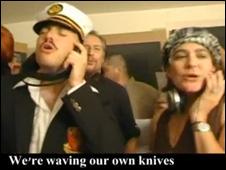 The Israeli government has apologised after its press office emailed to journalists a spoof video about the flotilla which tried to dock in Gaza.
The video shows people dressed as peace activists singing "we con the world" to the tune of We Are the World.
A spokesman said the video did not represent the Israeli government's view.
The video contains real footage of the Israeli raid on the flotilla in which nine activists died.
In the clip, which parodies the video made for the 1985 charity song, the singers are dressed up in costumes representing the captain of the flotilla, western peace activists, and Arabs wearing keffiyeh scarves.
"There's no people dying, so the best that we can do, is create the greatest bluff of all", they sing.
"We are peaceful travellers, we're waving our own knives," the song goes.
The song builds to a chorus of "we con the world, we con the people. We'll make them all believe the IDF (Israel Defense Forces) is Jack the Ripper."
At one point the singer dressed as the flotilla captain sings "Ithbah al-Yahud" which means "slaughter the Jews" in Arabic.
The video is interspersed with footage from the Israeli commando raid on the Mavi Marmara, the Turkish lead vessel of the flotilla which tried to break an Israeli and Egyptian blockade on Gaza last week.
Nine passengers on board were killed during the Israeli commando raid on the ship.
The ships were towed to the port of Ashdod and the activists deported.
Mark Regev, spokesman for the Israeli Prime Minister's office, told the UK's Guardian newspaper: "I called my kids in to watch it because I thought it was funny. It is what Israelis feel. But the government has nothing to do with it."
The video was made by the Hebrew satirical website Latma.co.il, run by Jerusalem Post deputy editor Caroline Glick.
On her website she said the clip featured "the Turkish-Hamas 'love boat' captain, crew and passengers in a musical explanation of how they con the world."
"We think this is an important Israeli contribution to the discussion of recent events," Ms Glick wrote.
But there has also been condemnation of the spoof.
"The video is a repulsive attempt to use satire to make Israel's case on Flotilla debacle," Didi Remez of the Coteret blog said.
Related Internet Links
The BBC is not responsible for the content of external sites.