Southampton Airport World Cup patrols under way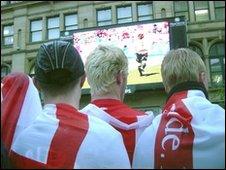 Specialist police officers have started patrols at Southampton Airport to stop potential troublemakers going to the World Cup in South Africa.
A total of 150 people linked to Hampshire teams have football banning orders, which mean they have to surrender their passports.
Officers will stop them, or anyone else suspected of being involved in football violence, from boarding flights.
A 2006 operation found 36 people in breach of their orders.
The 150 people subject to the orders will have to report to their designated police station on the day of each England match.
Officers will also step up patrols across Hampshire and the Isle of Wight during these games, with the first against USA on Saturday.
Supt Rick Burrows, of Hampshire Police, said: "We are not aiming to be kill-joys, our simple aim is to stop people who we know are trouble-makers from travelling to the games and spoiling the tournament for others.
"This operation is designed to compliment the banning order handing-in system, to ensure that football violence is not transported abroad."
Officers will use powers available under the Football Spectators Act.
Related Internet Links
The BBC is not responsible for the content of external sites.