Exeter Lib Dem councillors join Labour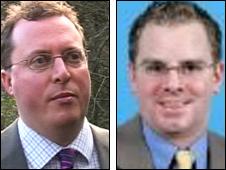 Two Liberal Democrat councillors in Exeter have defected to Labour in protest over the coalition government.
Rob Hannaford and Adrian Hannaford are thought to be the first defections in Devon since the Lib Dems teamed up with the Tories after the general election.
Rob Hannaford, who is also a county councillor, said other former Liberal Democrats may move.
But the council's Liberal Democrat leader said most members were happy with the coalition.
There is no overall control on the city council which now has 12 Labour councillors, 12 Liberal Democrats, four Liberals, 11 Conservatives and one independent.
Mr Rob Hannaford said: "There are other people in the Liberal Democrats in Exeter who are on the left of the spectrum such as myself.
"In Exeter we have a very complicated five-party system and people will be looking hard at what they want to do."
Adrian Fullam, Liberal Democrat leader of the city council, said he did not think anyone else would go.
"Generally speaking the Liberal Democrats are pleased that they are influencing government policy, that there is not unrestrained Conservatism and we can have that moderating influence."
But Exeter Labour Party spokesman Ian Martin said they would not be the last to swap sides.
"I have a list of Liberal Democrats who are city councillors that I wanted to approach to join us on the Labour Party," he said.
"Rob and Adrian Hannaford were not on my list. There are other people on my list."
Related Internet Links
The BBC is not responsible for the content of external sites.