Prudential bosses apologise for AIA deal collapse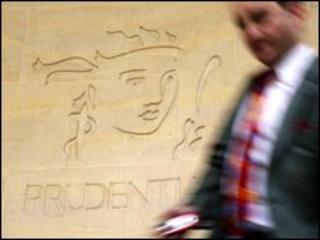 Prudential's two top bosses have apologised to shareholders at a stormy annual general meeting (AGM) for the collapse of the deal to buy AIA.
The deal broke down last week after the firm failed to agree a lower price for the Asian insurer.
Pru chief executive Tidjane Thiam and chairman Harvey McGrath defended the attempted takeover and said they regretted being forced to pull out.
However, some shareholders angrily called for the two to resign.
"I deeply regret [the deal collapsing]," said Mr Thiam. "I will have the task of restoring your confidence."
Mr McGrath said the firm was "right to pursue this business opportunity".
"We feel it was a risk in proportion to the advantage we would have gained," he said.
However, Mr McGrath also apologised for the costs incurred as a result of the collapsed deal.
Some shareholders are angry at the £450m spent on the aborted deal.
Shareholder Anthony Watts from Northampton accused directors of having failed on the job, despite their impressive CVs.
"You're a disgrace, all of you, and should do the honourable thing," he said to widespread applause.
Colin Sales from Essex said there was a price for failure and directors should resign.
But according to BBC correspondent Hugh Pym, a couple of shareholders supported the deal and congratulated the board.
Mr McGrath did not lose his cool and maintained a sense of humour, our correspondent at the meeting reported.
In answer to a question on recycling, he said: "I thought for a minute you wanted me recycled."
Investors delivered a minor blow after 8% of shares voted failed to support the Pru's remuneration report by voting against or abstaining.
However the biggest rebellion came after 31.6% of votes were against renewing the Pru's authority to create new shares for rights issues.
The original AIA deal had involved a UK record £14.5bn rights issue to finance the purchase by selling new stocks to existing investors.
Shares in Prudential slipped following the AGM, closing down by 4% - the second largest faller on the FTSE 100.
'Break fee'
Earlier on Monday, Prudential issued a trading update in which it reported sales of £1.35bn between January and May, 27% up on a year ago.
It also announced "record" sales in the US and an increase in Asian sales of 33% compared with a year earlier.
Chief executive Tidjane Thiam has been keen to boost the company's presence in Asia - hence the deal to buy AIA, the Asian arm of US insurance firm AIG.
In March, Prudential agreed to buy AIA for $35.5bn (£24.6bn), but last month, it asked for the price to be cut to nearer $30bn after shareholder opposition.
Some shareholders questioned both the size and wisdom of the deal, which would have required substantial fund-raising.
They are annoyed that the company has now been saddled with a bill for £450m in costs associated with the deal, including a "break fee" of about £152m.