Tube maintenance staff vote for strike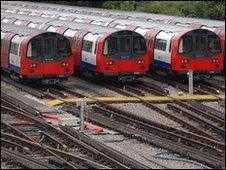 Tube maintenance workers have voted in favour of going on strike over jobs, pay and conditions.
The RMT union said its members employed by Tube Lines had backed industrial action by a margin of nine to one.
Transport for London (TfL) is taking over the maintenance work carried out by Tube Lines, but the RMT said a threat to jobs remained in place.
A TfL spokesman said the action related to an existing dispute with Tube Lines, over which it did not have control.
RMT general secretary Bob Crow said union members had shown "determination to stand up and be counted".
"We have made it perfectly clear to Transport for London that we do not expect our members to take the hit for the final collapse of the disastrous tube privatisation experiment," he said.
"We have sought concrete assurances that staff will not be expected to pay off the Tube Line's exit costs in job losses, attacks on safe working conditions and an undermining of pay rates.
"Now that we have this massive mandate for action it's essential that those assurances are forthcoming as a matter of urgency."
The union's executive will decide the dates of the walkout by the end of this week.
A TfL spokesman said: "This action by the RMT relates to an existing dispute with Tube Lines, over which Transport for London does not have control.
"We would urge the RMT leadership to resolve their dispute in a way that does not needlessly inconvenience Londoners."
Related Internet Links
The BBC is not responsible for the content of external sites.