Mexico City debtor accused of giving away his children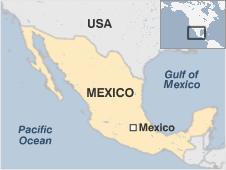 A Mexican man has been accused of giving his two children away to cancel a 25,000 peso (£1,300; $1,900) debt, then pretending they had been abducted.
Javier Covarrubias confessed to the alleged crimes after detectives confronted him with evidence that his story was false, prosecutors say.
His account of how his children were snatched in the street led to concerned protests in Tepito, a poor area of Mexico City.
The two children are still missing.
Mr Covarrubias, 20, was arrested in Hidalgo state after going into hiding when police questioned his account of his children's disappearance.
He initially claimed they were snatched in a violent street attack in Tepito in Mexico City on 18 May.
But CCTV footage showed he was not in the area in the time, and forensic examination found his wounds were self-inflicted, police said.
When confronted with the evidence, police say Mr Covarrubias confessed to giving away his children, Isis and Darien, to a woman in Mexico City to cancel his debts.
They say he admitted making up the kidnap story so his wife would not find out the truth.
His account of the supposed kidnapping provoked angry demonstrations in Tepito, where residents blocked roads and clashed with police in a protest to demand better security
Police say he was arrested as part of the continuing investigation to find the children.