Yachts leave Plymouth in Britain and Ireland race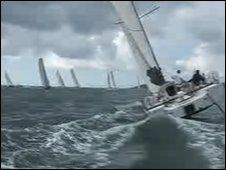 Sailors competing in the Round Britain and Ireland race have set off from Plymouth.
More than 50 yachts, including crews from Devon and Cornwall started the race at 1200 BST.
The course goes clockwise around Great Britain and Ireland, and includes four compulsory 48-hour stops at Kinsale, Barra, Lerwick and Lowestoft.
The race is held every four years by the Royal Western Yacht Club.
Devon sailors Alex Bennett and Malcolm Dickinson, are confident of a podium finish on their Class 40 yacht, Fujifilm.
Mr Bennett said: "You'll see some people making a cautious approach to the start, some people will want to make an impression from the start, but overall I think everyone will want to get away from Plymouth cleanly, and focus on the task in hand."
Related Internet Links
The BBC is not responsible for the content of external sites.