Justice Minister David Ford to deliver keynote speech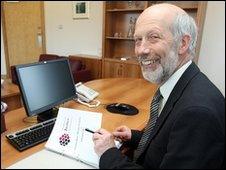 The justice minister David Ford is due to deliver a keynote speech on Monday.
He is expected to lay out plans for a "reshaping" of the Northern Ireland justice system.
The first Northern Ireland justice minister for almost four decades, Mr Ford has been in his post for eight weeks.
It is thought he will put forward plans for more partnerships between different groups involved in the justice system.
Mr Ford intends to present the first justice bill in 40 years to the assembly after the summer recess.
Speaking ahead of his speech on Monday, he described it as "a platform to outline the opportunities that devolution has provided".
"I will be making a very strong case for building partnerships to make Northern Ireland safer," Mr Ford added.
"These partnerships cannot just be at a political level, they must be across the criminal justice system and across our community."
Related Internet Links
The BBC is not responsible for the content of external sites.