Doctors demand Great Ormond Street Hospital chief quit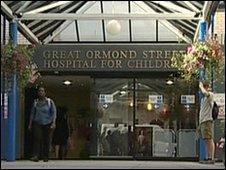 Dozens of consultants at Great Ormond Street Hospital have signed a letter of no confidence calling for the resignation of the hospital's boss.
More than 40 doctors called for chief executive Dr Jane Collins to quit after a British Medical Association meeting.
They have concerns over the management of the central London paediatric hospital and the relationships between doctors and senior staff.
A spokesman for the hospital said it had discussed concerns with staff.
Among those criticising the hospital is Dr Kim Holt, who was placed on special leave after complaining about consultant shortages in the run up to the death of Baby Peter in north London.
The Haringey toddler Peter Connolly died from abuse in 2008 after an inexperienced doctor from the hospital failed to spot he had a broken back.
Dr Holt told BBC London it occurred to her the hospital was not working well "on the first day I arrived".
She said: "There was always a feeling something wasn't quite right.
"We were firefighting a lot of the time.
"There was always a problem in us bringing concerns to management. It was them telling us what to do."
A Great Ormond street spokeswoman said: "The chair of the trust met four consultants last week and discussed a variety of concerns they had regarding the running of the hospital.
"A letter was mentioned but neither she nor the chief executive have received it.
"The chair will respond when she has it."
Related Internet Links
The BBC is not responsible for the content of external sites.