English football's financial challenges
By Bill Wilson
Business reporter, BBC News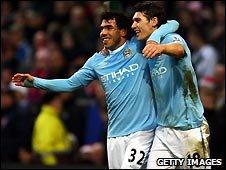 The last couple of seasons have been challenging ones for football clubs in England, as they have sought - in the face of economic pressures - to keep selling a product that remains exciting and viable for supporters.
Many of the issues the sport in England, as well as in the other "big four" leagues of Germany, France, Italy and Spain, faces are examined in the annual review of football finance from Deloitte.
Dan Jones is the editor of this year's report, entitled National Interest, and acknowledges football faces a number of issues, ranging from administration to new tax rules, rising wages to new TV deals.
"Is it a real game of two halves with the Premier League finances," he says, referring to the season 2008/09 which the report examines.
"On the revenue side, things are still very successful and still managing to grow, and getting closer to that £2bn revenue mark across the Premier League.
"But it is the cost control side of things where the problems lie."
The main rising cost is the increase in club wages, and it was spending beyond its means that took Portsmouth to administration in this past season 2009/10.
"Portsmouth is just a really bad management problem, that was the cause of the downfall of that club," says Mr Jones.
He said clubs can get into financial trouble by unexpected developments on the pitch such as relegation, or not qualifying for Europe.
"Portsmouth was doing as well on the pitch as it could possibly have wished to, winning the FA Cup, staying in the Premier League for year after year - it was just quite simply spending more money than it had.
"That could not be sustained once the owners weren't putting money in to support it."
And Mr Jones points to Chelsea and Manchester City as two clubs where the owners, Roman Abramovich and Sheikh Mansoor, have continued to pump in money on the playing side.
"Chelsea are moving gradually towards more of a break-even model, and although they are not there yet their losses have slimmed considerably from where they were," says Mr Jones.
"At Manchester City where Sheikh Mansoor has come in, he has converted the money he put in from debt into equity, which I think is a really clear long-term statement of his commitment."
In 2008/09 combined Premier League debt rose to more than £3bn, but Mr Jones says it must be remembered that £1.5bn was owed to owners such as Mr Abramovich and Sheik Mansoor, who were unlikely to ask for it back.
"We have got the most debt at our biggest clubs, and that in a way is not surprising," he adds.
"We've got the most debt there, we have also got the most revenue there, we have also got the most profit there."
He said the key factor was for clubs to remain financially capable of making their debt repayments as they are due, and not to let costs overtake income.
However, outside clubs owned by wealthy benefactors, there is unlikely to be much revenue growth in the Premier League or Football League over the next few years, except for the added cash from renewed TV deals.
"It really is an issue of getting those revenue costs back under control," says Mr Jones.
"In common with all businesses, football clubs have also seen their credit tightened, and maybe it is not so easy now for them to spend that TV money in advance.
"That is probably a good thing and to a certain extent may be saving clubs from themselves."
He adds: "There needs to be a big focus at clubs on those issues of cost control, because the revenue growth is not going to be there for the next three or four years."
Meanwhile, European football governing body Uefa is introducing rules that will force clubs to operate within their means, and only spend what they themselves generate.
It means the cash injections from wealthy benefactors, like Chelsea and Manchester City mentioned above, would also be restricted under Uefa's Financial Fair Play plan.
"I think that is probably in the long run a good thing for football clubs, as it is about stability, and financial sustainability," says Mr Jones.
"You could say it is particularly good for English clubs, because basically if the rule is around breaking even, and you have got more revenue than everybody else, then you should be the main beneficiary of a break-even rule."
The past season has also seen HM Revenue & Customs crack down on football clubs, and Mr Jones is very clear that, as with other businesses, taxes should be paid on time.
Other challenges in the past year have included the weakness of sterling against the euro, denting the net pay of overseas players, and the introduction of a 50% top tax rate.
In theory these two issues could make it harder for English clubs to compete for the signatures of overseas players.
However countries like Spain are reining in tax breaks for football player purchases, and the revenues being earned by English clubs still outstrip their European rivals.
"When you get down into the middle of the Premier League compared to the middle of La Liga or the middle of Serie A, our clubs are so far ahead that in pure financial terms, even with the tax rate, even with the exchange rate, they are competing against each other [for players]," he says.
"They are not competing against overseas clubs."
For the smaller Premier League clubs there remains the challenge of obtained long-term commercial and sponsorship deals.
But, as Mr Jones points out - "for our biggest clubs they have still managed to do some amazing deals - Liverpool and Standard Chartered, and Manchester United and AON".
Despite this difference in revenues between top and bottom Premier League clubs, Mr Jones believes that the way some things are done in England compare well with overseas leagues.
He points to the equal distribution of overseas TV money among the 20 top flight clubs.
"If you look over at Spain for example, with the individual selling of TV rights, Real Madrid and Barcelona are miles ahead of everybody else and there is no foreseeable way that another Spanish club can close that gap," he says.
"I do think that England still leads the way in a lot of ways. Whether it is Spain looking at how to even out the gap between the smallest and largest teams, or France and Italy looking at our stadium facilities."
But despite these positives, the central financial challenge remains.
"It is an old drum we keep banging, but this issue of costs, and particularly player costs, is the one thing we need to remain focused on."
Related Internet Links
The BBC is not responsible for the content of external sites.