Boy dies after River Wharfe fall on eighth birthday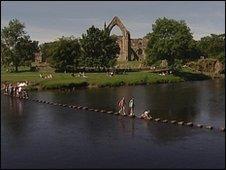 A boy who died after falling into a North Yorkshire river had been celebrating his eighth birthday.
Aaron Page was with a large group of family members when he went into the River Wharfe at Bolton Bridge, near Bolton Abbey in Skipton.
The youngster, from Pontefract, West Yorkshire, got into difficulty in the water and the alarm was raised by his 13-year-old brother.
Emergency services helped in the search and his body was recovered at 1825 BST.
The boy was pronounced dead at the scene.
Police said members of the public tried to rescue the youngster, but were unable to due to the strong undercurrent and the depth of the water.
Insp Kevin Franks, from North Yorkshire Police, said: "This was a happy family day out to celebrate a birthday at a local beauty spot... and unfortunately this young boy has got into difficulty in an area of water."
The officer added: "Despite efforts from members of the public and some quite stirling efforts from the emergency services and everyone else there, sadly we've been unable to bring him out alive."
Insp Mike Woodhall, from Harrogate Police, said the accident highlighted the dangers of swimming in rivers.
"No matter how safe a river seems sometimes there are inherent dangers," he said.
Related Internet Links
The BBC is not responsible for the content of external sites.