Thousands join Gaza protest in Edinburgh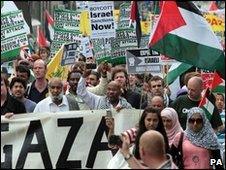 Thousands of people have taken part in a demonstration in Edinburgh against the situation in Gaza.
The event was arranged by supporters of the Scottish Palestine Solidarity Campaign and saw about 3,000 protestors gather in the city centre.
It came as Israeli troops took control of an aid ship trying to break the blockade of the Gaza Strip.
The Irish ship, MV Rachel Corrie, is captained by Eric Harcus, who is from Orkney.
Israel's military said soldiers boarded the Rachel Corrie from the sea and did not meet any resistance.
The ship was being taken to the Israeli port of Ashdod. There has been no word from those on board.
Israeli Prime Minister Benjamin Netanyahu hailed the peaceful outcome to the operation.
The incident came five days after nine people were killed in clashes when troops boarded the Mavi Marmara and other ships in a convoy of ships bound for Gaza, prompting international criticism.
Among those taking part in the Edinburgh demonstration was Theresa McDermott, who was on the Challenger, one of the boats boarded last week.
The 43-year-old arrived home on Friday after being held in an Israeli prison.
Meanwhile, Scotland's External Affairs Minister Fiona Hyslop said she had discussed Saturday's boarding with Ireland's Foreign Minister Micheal Martin.
Ms Hyslop said: "The Scottish government has had direct contact with the MV Rachel Corrie - captained by a Scot, Eric Harcus - and it is essential that the safety of the activists and crew aboard is assured by Israel's government.
"There are concerns that the vessel may have been boarded and commandeered while in international waters.
"Micheal Martin and I both agreed that all the humanitarian aid, which includes vital medical supplies, wheelchairs and cement must reach its destination.
"The Scottish government has joined other international voices in condemning the violence on the Mavi Marmara, and the first minister has written to Israel's UK ambassador calling for the immediate lifting of the Gaza blockade."
She said it was "imperative" that there is an impartial, UN-led inquiry into the violence on the Mavi Marmara.
Israel tightened the blockade on Gaza since 2007, when the Islamist Hamas movement took control of the territory.
Related Internet Links
The BBC is not responsible for the content of external sites.