Greenpeace man 'injured in raid' during tuna protest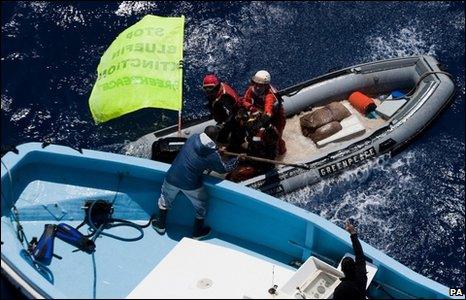 An environmental protester from London has been injured with a grappling hook while on a raid against tuna fishing boats, Greenpeace has said.
Frank Hewetson was injured when the charity ambushed the French vessels in the Mediterranean. He is now recovering in hospital.
A Greenpeace spokesman said the fishermen had an "extremely violent" reaction to their raid.
The French Embassy in London has not yet made a comment.
But a Greenpeace video shows a crew driving a larger boat into a dinghy, sending an activist into the water.
The organisation also released a photo apparently showing a French fisherman swinging a gaff hook at a Greenpeace Dinghy.
Mr Hewetson was on one of two inflatable craft trying to collapse the fishermen's net to prevent them catching tuna.
Greenpeace said the craft were sunk when fisherman slashed them.
Spokesman Oliver Knowles said: "It's clear the blue fin tuna in the Mediterranean is a massively over-fished species - already 80% fished out.
"What has happened here this afternoon in the water around us is that commercial interest has won out over the need to preserve a species."
Related Internet Links
The BBC is not responsible for the content of external sites.