Hunting for glow-worms in Norfolk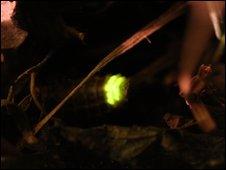 Wildlife watchers in Norfolk have been urged to try to spot glow-worms.
Norfolk Biodiversity Information Service (NBIS)- which collects and manages wildlife records - has started a survey to find glow-worm hot spots.
NBIS said there were not many records of the beetles in the county even though they were thought to be there.
The adult females can be seen when they release a chemical to produce a green light to attract a male mate. They are normally seen in June and July.
Biodiversity information officer Martin Horlock said: "We don't have many records of glow-worms in Norfolk - although we think they're out there.
"Only the adult females are easy to spot, and then only for a few hours over the course of a couple of weeks at night.
"If we have a better idea of where they are distributed, we will be able to investigate whether populations are stable and what we can do to help them thrive."
Related Internet Links
The BBC is not responsible for the content of external sites.