Photographer Brian Duffy dies of lung disease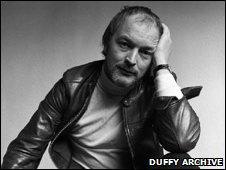 Brian Duffy, one of the photographers whose images helped to capture the spirit of the 1960s, has died.
He was 76 and had been suffering from lung disease.
Known to friends and colleagues by his surname alone, Duffy was a rival of David Bailey and Terence Donovan throughout the 1960s.
Film producer Lord Puttnam said Duffy helped push the stultifying conservatism of the 1950s into permanent retreat.
Duffy is also famed for once burning part of his work in a bin in 1979.
At art school, Duffy studied dress design because he said "there were a lot of good-looking girls doing it" before moving into photography.
He was one of the few photographers to shoot two Pirelli calendars and was famously bad-tempered.
David Bailey said he would have no-one to argue with now. He said: "If you said 'It's a nice day' to Duffy, he'd pick an argument with you."
Duffy, Bailey and Donovan were dubbed the Black Trinity and the Terrible Trio.
The BBC's Andy Moore said all three were working-class East Enders, different to the "gentleman photographers" of the previous era.
They became as well-known as the models and film stars they worked with.
Molly Parkin, former fashion editor of Nova, Harpers and the Sunday Times, worked with Duffy on several occasions and first met him when they were both students.
"He was so erudite, witty and caustic," she said. "I found him very intimidating when I was young, but not when I was older.
"I next met him when he came to photograph me and my two daughters. He was quite caustic about my wardrobe, which nobody had had the temerity to question before.
"I was a painter and he said he had great admiration for those who painted - he described himself as a failed painter."
Ms Parkin says she recognised Duffy's "visual brilliance" and that he was "the most interesting" of the trio he made up with Bailey and Donovan.
"He will be sorely, sorely missed and was much too young to die. He epitomised the 60s - where do you see those quality of photographs nowadays?
"I saw him in his later years and he was a very sensitive man, something he had masked in the 60s."