Bolivian group hands over bodies of lynched policemen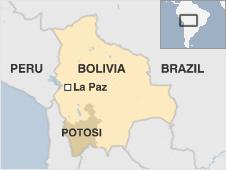 An indigenous group in Bolivia has handed over the bodies of four policemen, 12 days after lynching them.
Members of the so-called Warrior Clans turned the bodies over to relatives after demanding a promise that charges would not be filed against them.
They accused the policemen, who belonged to a unit tackling car theft, of extortion.
The area - in the province of Potosi - is a well-known smuggling route for cars from neighbouring Chile.
Although the Warrior Clans obtained a written promise that relatives would not press charges, prosecutors say they will investigate the deaths.
The four policemen are believed to have been killed on 23 May.
The Warrior Clans hid the bodies and refused to release them, demanding that police investigate the deaths of four of their members.
Officials have agreed to investigate some of the complaints.
The area where the lynchings took place is home to five indigenous communities.