US says 80% of al-Qaeda leaders in Iraq removed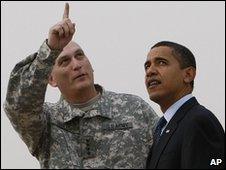 About 80% of al-Qaeda's leaders in Iraq have been captured or killed during the past three months, says the country's top US commander.
Only eight of the group's 42 chiefs in Iraq remained at large, Gen Ray Odierno told a Pentagon news conference.
But he cautioned against complacency, saying that, even with the setbacks, al-Qaeda was trying to regroup and would remain a problem for years.
"I will never take my eyes off of al-Qaeda," said the general.
He added that the number of attacks and casualty figures suffered by US troops had fallen to their lowest level since the US-led invasion of the country in 2003.
"All of those statistics for the first five months of 2010 are the lowest we've had on record."
Gen Odierno, who is leaving his post in the autumn, said the successes were rooted in the infiltration of a network in Mosul by US and Iraqi forces earlier this year.
"We made some significant inroads in Mosul, where their headquarters basically was," he said.
"And we got inside of AQI. We picked up several of their leaders that did the financing, that did planning, that did recruiting."
This prompted a crackdown which culminated in the deaths of Iraqi al-Qaeda leader Abu Ayyub al-Masri and Abu Omar al-Baghdadi, who led an affiliate group, in an April airstrike.
"They are clearly now attempting to reorganise themselves," said the general. "They're struggling a little bit.
"They've lost connection with [the al-Qaeda senior leadership] in Pakistan and Afghanistan."
Gen Odierno said he was confident he could safely reduce the number of US combat troops in Iraq to 50,000 within three months, as US President Barack Obama has promised.
He said there were currently 88,000 American troops in Iraq, supported by 90,000 contractors.
While Mr Obama has pledged to withdraw all combat troops from Iraq by the end of August, up to 50,000 are expected to remain there until the end of 2011 to help train and equip Iraqi forces.
Related Internet Links
The BBC is not responsible for the content of external sites.