Missing Fareham woman 'obsessed with internet site'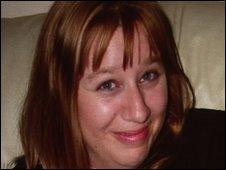 The family of a missing woman who became "obsessed" with an internet fantasy website think she may have gone to be with someone she met online.
Annemarie Squires was seen on CCTV at her hometown train station in Fareham, Hampshire, with two suitcases on 13 May but has not made contact since.
She left a note to her partner saying she was fed up with "bickering".
Her relatives said she argued about being on the site which lets users make their own characters and meet others.
The note said she was staying with "Shin" who her family believe is someone she met online.
Hampshire police are investigating but said because Ms Squires left with suitcases it looks as though the journey was planned.
But officers urged her to get in touch so they can ensure she is safe and well.
In the note, Ms Squires apologised and said she "couldn't stand the bickering and arguing anymore".
Her son Andrew Hyslop said: "It did seem that it became almost like an addiction, that she had to be on this site.
"Having spoken to her partner he said she was on it everyday so I guess it could be like a compulsion."
Her sister Nikki Hawthorn added: "It has been complete worry for everybody.
"It has been three long, hard weeks and we just want to hear something from her."
Ms Squires' family have also set up a Facebook page appealing for information.
Related Internet Links
The BBC is not responsible for the content of external sites.