Afghanistan blast soldiers unlawfully killed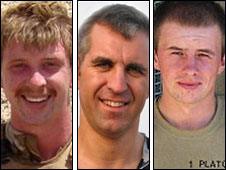 A coroner has recorded a verdict of unlawful killing on three soldiers who died in an explosion in Afghanistan.
Capt Mark Hale and Rifleman Daniel Wild died trying to save injured colleague Lance Bombardier Matthew Hatton.
All three were part of a patrol to provide back-up to a search of a mosque believed to be used as a weapons store.
Capt Hale and Rifleman Wild served with the 2nd Battalion The Rifles in County Down. Bombardier Hatton, from York, was with 40 Regiment Royal Artillery.
The deaths came during one of the bloodiest periods for British troops since the mission began in October 2001, as operations were stepped up ahead of presidential and provincial council elections last August.
The inquest in Wiltshire was told the soldiers were part of a "cordon" set up to provide back-up while members of the Afghan National Army went into the mosque in Sangin on 13 August.
The mission had been launched on the basis of intelligence that the mosque and nearby compounds had been used for the storage of improvised explosive devices (IEDs).
As Lance Bombardier Hatton, 23, advanced forward with his section, an IED exploded injuring him and two other men.
Capt Hale, 42, and Rifleman Wild, 19, then ran into the compound and were carrying Lance Bombardier Hatton when a second explosion went off.
Capt Hale died later of his injuries, but the other two died at the scene.
The inquest was told the compound had been checked for explosives, but none had been detected.
Commanding officer Maj Karl Hickman said the number of IEDs being used had increased - growing vegetation at that time of year provided the Taliban with more hiding places.
He said a total of 30 IEDs had been found on one stretch of road in that area.
Wiltshire and Swindon Coroner David Ridley said the Ministry of Defence was taking steps to counter the new type of IEDs which had low levels of metal to avoid detection by the Army's Vallon metal detectors.
"They (MoD) are aware of this and are trying to improve the equipment given to those serving out there to help their survivability."
Related Internet Links
The BBC is not responsible for the content of external sites.