Irish ship the Rachel Corrie is due to arrive in Gaza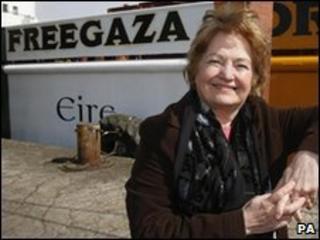 The Irish aid ship, MV Rachel Corrie, is expected to arrive in Gazan territorial waters at about 0900 local time (0600 BST) on Saturday.
Israel's foreign minister has said it will not be allowed to dock there and so far the crew have had no communication with the Israeli navy.
Nine activists died on Monday when Israeli commandos stormed another vessel in the convoy.
Nobel Laureate Mairead Corrigan Maguire is on board the Rachel Corrie.
On Friday night the Irish Foreign Affairs Minister Micheal Martin said he had reached agreement with the Israeli government to allow the vessel dock in the Israeli port of Ashdod, but it is believed that the activists declined the offer.
On Friday, crew member Jenny Graham said they remained determined to dock in Gaza: "We will have no part in a deal that involves us legitimising the siege of Gaza."
"With regard to the suggestion that we have been negotiating with Israel about docking in Ashdod, again this is untrue.
"The Israelis have not been in contact with us. We remain as committed as ever to getting our 1,000 tonnes of aid and supplies to the people of Gaza," she said.
On Friday the Northern Ireland Assembly held an emergency debate to discuss Israel's storming of the aid flotilla bound for Gaza.
MLAs debated a motion calling on Israel to end the blockade and allow safe passage for the Irish ship, Rachel Corrie.
The debate ended after a petition of concern was presented by Unionists. A vote will be taken on Monday.
Determined
The emergency debate was supported by at least 30 MLAs, the number required before the assembly can be recalled in this way.
Gerry McHugh, who was one of the two Independent Assembly members who had forced the debate, said.
"A great many Israelis want peace, but it is the inconsiderate actions of the present government, seemingly determined to pursue a path of confrontation which is making this prospect more distant.
"We know from our own history that dialogue and discussion leads to a more sustainable and advantageous outcome in the long run," Mr McHugh added.
"If there is any part of the world that can show how compromise can change hearts and minds, it is here."
However, the DUP's William Irwin said it was "nothing more than a publicity stunt".
"The situation in Gaza was raised in the assembly chamber on Tuesday and there is absolutely no need for another separate debate to be called on a day when the assembly is not even sitting," he said.
"At a time when we are facing massive cuts in public spending there are a huge range of more important issues which should be concerning public representatives in Northern Ireland."
Nine civilian activists were killed after armed forces boarded the largest vessel carrying aid to the Gaza Strip on Monday.
The activists were attempting to defy a blockade imposed by Israel after the Islamist movement Hamas took power in Gaza.
Organisers of the flotilla said at least 30 people were wounded in the incident. Israel says 10 of its soldiers were injured, one seriously.
Israel had repeatedly said it would stop the boats, calling the campaign a "provocation intended to delegitimise Israel".
It said it allows about 15,000 tonnes of humanitarian aid into Gaza every week.