UK troops run charity 10k on Afghanistan front line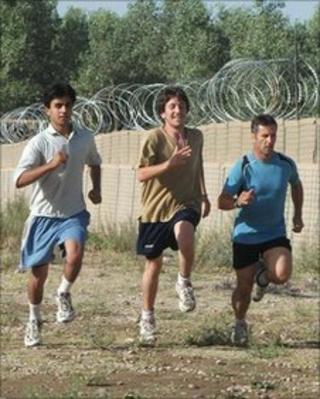 A group of British troops have completed a charity 10k run on the front line in Afghanistan.
Personnel from 1st Battalion, The Duke of Lancaster's Regiment, are raising money for the Royal British Legion, along with several Afghan nationals.
The challenge is made more difficult by hard, uneven terrain, ankle-deep dust and temperatures up to 40C.
Warrant Officer Gareth "Taff" Davies said troops wanted to do their bit for charity even while on operational duty.
WO Davies, who is from the Royal Air Force but attached to the 1st Battalion's Burma Company, came up with the idea as a way of raising money and providing a welcome distraction for the troops.
He has organised several fun runs before while serving in Bosnia and Kosovo, but this one presents its own unique challenges.
The route takes participants - who call themselves the Desert Dash Lions - on six laps of Patrol Base Shahzhad, in Helmand province.
WO Davies told the BBC News website: "Because of the operational nature of where we are I've had to split the run into three events to give everyone an opportunity to take part, as there are patrols, guard posts and shifts to man.
"The first run was on 3 June and that had about 25 people take part. I'm hoping for at least 100 people overall."
"There are calculated risks with everything we're doing, but the base is as safe as it gets in these parts," WO Davies said.
"We've kept the run route to within protection walls as much as possible, so it means we have to do laps.
"There are few places where the enemy can see what we are up to and we have deterrents placed all round the camp.
"A major consideration is operations, they take priority over everything, so the run may be delayed to ensure we're always at operational readiness."
Overall, about 100 people took part in the event, including about 10 Afghans. WO Davies himself has been out training with several local interpreters - and was impressed by their speed.
"I've been taking some of them out training in the mornings and evenings, and one or two of them are quite good and may surprise some of the British soldiers!
"We want them involved as it's their country and we want them to feel part of everything we are doing here, whether that's patrolling or sport."
Capt David Naumann is one of those taking part. He is hoping to raise a bit of extra money by running in a "mankini", as worn by Sacha Baron Cohen's comedy character Borat.
He said: "I'm doing this run to show solidarity with those who are serving today and in the past. I'm proud of them and this is just a small way of trying to show that.
"I don't think anyone's worn a mankini to run 10km on the front line before so it should be amusing for the lads!"
The troops' target was £1,000 in sponsorship, but donations have already exceeded that figure and they are now aiming for £2,000. To donate to the Desert Dash Lions appeal, follow this link to their website.