Zambia editor jailed over porn trial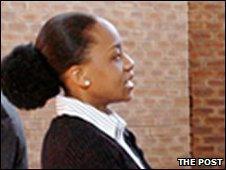 A Zambian editor has been sent to prison for publishing comments by a lawyer during a pornography trial involving one of his paper's reporters.
Zambia Post's Fred M'membe was jailed for four months for contempt of court.
The Post employee was cleared of obscenity charges last November for sending government ministers pictures of a woman giving birth in a hospital car park during a nurses' strike.
President Rupiah Banda had described the photographs as pornographic.
Chansa Kabwela - a news editor at the Zambia Post - did not publish the controversial photographs, but sent copies to a number of prominent people and women's rights groups, along with a letter calling for the strike to be brought to an end.
During her trial last year the paper published an opinion piece about the case, which the prosecution said could have affected the proceedings.
"I have this day sentenced the editor to four months' imprisonment with hard labour for the offence of contempt of court. This sentence will serve as a deterrent to other would-be offenders," AFP news agency quotes magistrate David Simusamba as saying.
The BBC's Muchana Chanda in the capital, Lusaka, says after the sentence was passed and the magistrate had left almost everyone in court in the public gallery queued to shake the editor's hand, before he was taken away.
Correspondents say President Banda has made no secret of his dislike of the Zambia Post, which has campaigned against alleged corruption.
Related Internet Links
The BBC is not responsible for the content of external sites.