'Heart shock' machine at Snowdon summit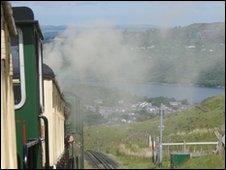 A defribillator used to 'shock' people back to life after a cardiac arrest has been fitted at the Hafod Eryri visitor centre on Snowdon's summit.
Some centre staff, along with mountain railway, mountain rescue and Snowdonia National Park Authority workers have been trained to use it.
Around 150,000 people reach the 1,085m (3,488ft) summit on the train each year, while around 650,000 walk up.
The machine can be used to help people until emergency services arrive.
"These machines are getting to be quite common, and we thought this would be a good place to put one," said Doug Blair, the senior engineering manager with the Snowdon Railway.
Mr Blair, who has himself been trained to used the defibrillator, said it was important more people knew about the machines.
"It is about the size of a shoe box, or even smaller, and it tells you when to do everything, all you need to know is where to stick the pads - it won't shock a healthy person," he added.
Gerard Rothwell, the national public access defibrillator scheme (PADS) manager for Wales, said "practical scenarios" had been used during training at the summit.
"With the amount of visitors Snowdon has every year the summit is an ideal place to have a PADS site," he said.
"Early response times to cardiac emergencies and the delivery of basic life-saving treatment are the key to saving lives," he added.
Across the country the Welsh Amublance Service has trained over 3,000 volunteers to man the trusts' 34 current PADS.
Related Internet Links
The BBC is not responsible for the content of external sites.