Polish murder accused denies killing housemate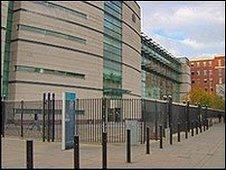 A Polish man has pleaded not guilty to murdering his housemate in Newtownards almost a year ago.
Mariusz Krzystof Demski, 36, from Balfour Street, Newtownards, who had an interpreter in the dock at Laganside court, spoke in English to deny the charge.
26-year-old Krzystof Zlotnicki, who was also from Poland died from a blunt trauma wound to the skull on 16 June 2009.
The accused was remanded in custody.
The defendant also denies a second charge of causing grievous bodily harm to Zlotnicki in a previous incident in January 2009.
A date for the trial, which is expected to last up to four weeks will be set in September.