Snow Patrol back in Bangor for only NI gig in 2010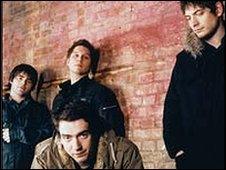 One of Northern Ireland's most successful bands are back for a concert in their home town of Bangor.
Snow Patrol are playing live at Ward Park on Saturday 5 June.
40,000 fans are expected at the homecoming gig which will be the band's only Irish concert in 2010.
The band, whose hits include Run, Chasing Cars, Just Say Yes, Signal Fire, Open Your Eyes and Take Back the City, last played Ward Park in 2007.
Snow Patrol was formed in 1994 but the band only gained critical recognition when it signed with Polydor Records in 2002.
A year later they released their debut album with the label, Final Straw.
It went on to sell four million copies worldwide.
Their next studio album, Eyes Open, (2006) propelled the band to greater international fame.
The album topped the UK Album Charts and was the best-selling British album of the year, selling over five million copies worldwide.
In 2008, the band released their fifth studio album, A Hundred Million Suns and in 2009 their first compilation album, Up to Now.
During the course of their career, Snow Patrol have won five Meteor Ireland Music Awards and have been nominated for three BRIT Awards.
Since the release of Final Straw, the band have sold over ten million albums worldwide.
Translink, North Down Borough Council and the PSNI are encouraging people to use bus and rail travel to Bangor, including special late night return services to bring people safely home.
A half-hourly train service will operate from Great Victoria Street and Belfast Central Station to Bangor throughout Saturday.
Special rail shuttle services returning from Bangor to Belfast after the concert will run until 0045 BST with onward connections to Carrickfergus, Lisburn, Coleraine and Portadown.
BBC One NI will show an hour-long special of their concert, Snow Patrol: Live at Ward Park 2010 at 2315 BST on Wednesday 9 June.
A second programme to be broadcast the following week on BBC Northern Ireland will feature Snow Patrol and some of the supporting acts including Band Of Horses, Lisa Hannigan, and General Fiasco.
BBC's Radio Ulster's Across The Line (Monday nights at 2000 BST) will also be there to bring listeners the best music and behind the scenes chat and gossip from the concert.