Gaza flotilla: Turkey threat to Israel ties over raid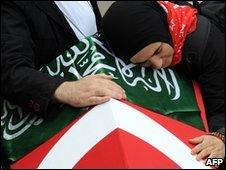 Turkey says it might reduce economic and defence ties with Israel following the deadly raid on a Gaza aid flotilla.
Deputy PM Bulent Arinc said Ankara was "assessing deals with Israel", once its close ally.
Nine people, mostly Turkish activists, died when Israeli troops stormed a ship trying to break Israel's blockade of Gaza on Monday.
Turkish PM Recep Tayyip Erdogan said he did not view Hamas, which runs Gaza, as a terrorist organisation.
In Friday's televised speech, which analysts say will anger Israel, Mr Erdogan described Hamas as "resistance fighters who are struggling to defend their land".
"I have told this to US officials... I do not accept Hamas as a terrorist organisation," he said.
Hamas, which seized power in Gaza in 2007, is designated a terrorist organisation by Israel, the US and the EU.
In Istanbul on Friday, thousands of people waving Turkish and Palestinian flags and shouting anti-Israeli slogans joined a rally at a memorial service for one of those killed in the raid.
Israel has been widely criticised over the incident, which took place in international waters.
There are conflicting reports as to what happened - the activists say they were attacked, while Israel says its commandos opened fire in self-defence.
Israel says it will not allow aid ships to dock at Gaza, fearing the cargo might contain weapons and other items it wants to prevent reaching Hamas.
Mr Arinc said on Friday that all military and economic deals made with Israel were now being re-evaluated, although he suggested no action would be taken immediately.
"We are serious about this subject," he told broadcaster NTV.
"We may plan to reduce our relations with Israel to a minimum, but to assume everything involving another country is stopped in an instant, to say we have crossed you out of our address book, is not the custom of our state."
The BBC's Jonathan Head in Istanbul says Mr Arinc has made it clear that there will be long-term consequences over what happened on the aid ships.
The government will be able to consider what action to take against Israel once the emotions of recent days - as Turkey mourns the dead activists - calms down, our correspondent says.
Friday's rally in Istanbul centred on a memorial service for journalist Cevdet Kiliclar, who was shot in the head during the Israeli raid.
Thousands turned out in Istanbul on Thursday for the funeral services of eight other victims.
The youngest of the dead activists, 19-year-old Furkan Dogan - who was born in the US but moved to Turkey as a child - is being buried in his hometown of Kayseri in central Turkey on Friday.
Meanwhile, the MV Rachel Corrie aid ship is heading towards the coast of Gaza, aiming to break the Israeli blockade.
Activists on board told the BBC's Andrew North in Jerusalem by telephone that they aimed to arrive just outside Israel's 20-mile (30km) exclusion zone off Gaza by Saturday morning.
They said there were 20 people on board, including five Irish nationals, six Malaysians and nine crew members.
One of the activists, former Nobel peace prize winner Mairead Corrigan Maguire, said their humanitarian aid shipment included cement and construction materials - items banned by Israel.
Israeli Foreign Minister Avigdor Lieberman said on Friday that the Rachel Corrie would not be allowed to arrive.
"We will stop the ship, and also any other ship that will try to harm Israeli sovereignty," he said on Israel's Channel 1 television.
"There is no chance the Rachel Corrie will reach the coast of Gaza."
The Rachel Corrie is named after a US college student who was crushed to death by an Israeli army bulldozer as she protested about house demolitions in Gaza.
The Israeli government has offered to take the aid it is carrying in by land, once it has checked there is nothing in the shipment that can be used for weapons.
"We have no desire for a confrontation. We have no desire to board the ship," said Israel's Foreign Ministry Director-General Yossi Gal on Friday.
"If the ship decides to sail to the [Israeli] port of Ashdod, then we will ensure its safe arrival and will not board it."
After Monday's deadly assault on the other aid ship, Israel's response is being closely watched, our correspondent says.
Mairead Corrigan Maguire told him that they planned to sail all the way into Gaza, but would show no resistance or violence if Israeli forces stopped them and boarded the ship.
Related Internet Links
The BBC is not responsible for the content of external sites.