Would-be MP on depression battle
By Stuart Hughes
BBC News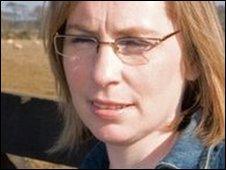 Scottish Labour Party activist Zoe Smith had expected to spend the night after the general election waiting to learn how many people had voted for her in North East Fife.
Instead she spent it in a psychiatric ward, receiving treatment for bipolar disorder.
The mental illness, which used to be called manic depression, affects around one in 100 people. At its most extreme it is marked by huge mood swings, from joyous highs to crushing lows.
Zoe, 34, had always assumed her energy and enthusiasm were just a normal part of her personality.
"I was very active in the community in St Andrews, where I live, and always had a lot on the go but I thought that was just the sort of person I was," she says.
"I couldn't pass up the chance to be involved in something that might make a difference and as a result I was attending meetings and events almost every night of the week."
For the mother of three children, the stress of juggling her community work and commitments as a prospective Labour candidate, along with a job with her local member of the Scottish Parliament, eventually began to take its toll.
Following the breakdown of the relationship with her partner of 10 years last October, Zoe's mental health began to deteriorate. She went to see her GP, who prescribed anti-depressants, but the drugs did little to help.
"I struggled through Christmas and New Year but in January I had what I'd describe as a breakdown," she says.
"I was depressed, I was crying, I was struggling to get out of bed in the morning. I had no short or long term memory and I crashed my car a couple of times. The basics were getting done but I was just hanging on."
With the general election looming, things were to get even worse for Zoe.
"It was quite clear that I was becoming very, very ill.
"One day I woke up with the most terrifying idea that I was at risk in some way. I didn't open my curtains. I felt very, very threatened and I didn't know why. I just knew that someone or something was going to get me and do me harm.
"I texted my community psychiatric nurse and asked her to come round to my house. By the time she arrived I'd shut myself in the bedroom with the filing cabinet up against the door."
In April, on the day Gordon Brown called the election, Zoe stood down as Labour candidate for North East Fife, the constituency held by the former Lib Dem leader Sir Menzies Campbell.
Two weeks later she was admitted to an NHS psychiatric ward. She believes the experience did little to aid her recovery.
"Initially I was grateful to be in hospital because I felt safe. I was hopeful I was going to go into hospital and get better but it was the wrong thing to hope for.
"It was a hideous environment. It was probably the most depressing place I've ever been.
"No-one there knew me before I was ill and suddenly they were controlling my life.
"All they offered were drugs and containment. There was no therapy at all."
Zoe left hospital after almost a month and is now recovering from what she calls her "mental health car crash" at home in St Andrews.
Throughout her illness she has used her blog, entitled Political Parent, and Twitter to speak openly about her condition and challenge some of the misconceptions surrounding mental illness.
"You can talk about conditions like cancer but mental illness is still a big secret. People don't talk about it," she says.
"I like to think of myself as someone who doesn't have many prejudices but I had no idea how pervasive the stigma is."
Zoe now hopes to use her experience as a politician and a patient to lobby for better mental health provision.
She believes teaching people about good mental health is as important as promoting a proper diet and regular exercise. Educating schoolchildren about their emotional well-being, she believes, could prevent many youngsters from suffering mental health problems in later life.
"Although I'd never want to go through it again I've learned a lot about myself and I've become passionate about mental health," she says.
"We need more community psychiatric nurses. We need more therapy in the community. We need more support for families because when someone suffers from mental illness it doesn't just affect one person, it affects everyone.
"Mental illness can happen to anybody and it's not a reflection on who you are."
Related Internet Links
The BBC is not responsible for the content of external sites.