Tissue 'growth' technique starts at Good Hope Hospital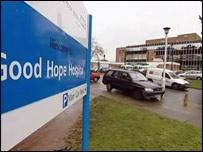 A treatment allowing people to "regrow" damaged knee tissue is being pioneered in Birmingham.
Around 25 people at Good Hope Hospital in Sutton Coldfield have been offered the technique on the NHS at a cost of between £5,000 and £10,000 each.
Cells are taken from a patient's cartilage and flown to a laboratory in Germany where they are cultivated.
They are then flown back to the UK and implanted back in the patient.
The human body is unable to grow new cartilage. One recipient was Helen James of Rugeley, Staffordshire, whose knee was badly damaged after a fall.
She said: "If you had seen me nine months ago I couldn't walk, I couldn't put weight on my knee, I couldn't bend it - now, I'm pretty much back to normal.
"When you think something you can't re-generate in your own body is taken out, flown hundreds of miles to be grown into something in a lab, to be flown back to be put into your knee, it's pretty weird."
Dr Ashvin Pimpalnerker, one of the doctors involved, said not everyone was suitable to receive the operation.
"The most important thing is careful patient selection. I wouldn't say every patient who has arthritis can have this technique, you need to choose your patients very carefully," he said.
Related Internet Links
The BBC is not responsible for the content of external sites.