Burma 'trying to build nuclear weapon'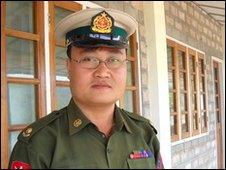 Burma has started on a nuclear-weapons programme, according to a documentary based on evidence from a soldier who defected.
Major Sai Thein Win provided Norway-based broadcaster Democratic Voice of Burma (DVB) with files and photographs describing experiments with uranium.
A former UN inspector said the evidence suggested Burma was seeking to build weapons rather than power plants.
But experts said the ruling junta was a long way from succeeding.
The revelations come a day after a US senator cancelled a visit to Burma because of concern over its alleged nuclear ambitions.
'Expending huge resources'
In the documentary, entitled Burma's Nuclear Ambitions, Maj Sai shows documents and pictures he says came from a factory which was building prototypes for nuclear components.
Maj Sai is a mechanical engineer who worked on machining parts and visited the Burmese nuclear battalion in Thabeikkyin, says the documentary.
He provided photos purportedly of machines that can be used to convert uranium compounds for use in nuclear fuel or a nuclear weapon.
Robert Kelley, a former inspector with the International Atomic Energy Agency, a UN watchdog, said he believed Burma was probably mining uranium and exploring nuclear technology "useful only for weapons".
In an online article for DVB, he writes: "The information provided by [Major] Sai and other reporters from Burma clearly indicates that the regime has the intent to go nuclear and it is... expending huge resources along the way."
Mr Kelley said the quality of the machine parts and the mechanical drawings was "poor".
"Nothing we have seen suggests Burma will be successful with [these] materials and components," he writes.
He said if Burma was found to be developing nuclear weapons it should face sanctions.
DVB also said it did not believe Burma was capable of producing a nuclear weapon at this time.
"The intention is there," says Ali Fowle, a spokesperson for DVB, "but the reality is very different."
A UN panel has accused North Korea of exporting nuclear and missile technology in defiance of a UN ban, to countries including Burma, Iran and Syria.
On Thursday, the US Senator who chairs a Senate committee on East Asia, Jim Webb, cancelled a visit to Burma because of concern it was working with North Korea to develop a nuclear programme.
But DVB says that while North Korea may be involved in missile proliferation, there is no new evidence to suggest it is helping Burma to develop nuclear weapons.
DVB adds, however, that the Burmese government is modelling itself on North Korea, reckoning that if Pyongyang has nuclear weapons, the US or other countries would find it more difficult to attack.
All photos used with permission from the Democratic Voice of Burma
Related Internet Links
The BBC is not responsible for the content of external sites.