Conductor Seiji Ozawa cancels European tour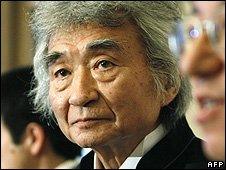 Japanese conductor Seiji Ozawa has cancelled a series of European concerts on the advice of his doctor.
The 74-year-old Vienna State Opera musical director had planned performances in Prague, Vienna, Berlin and Paris between 3 and 10 December.
Ozawa, who spent three decades with the Boston Symphony Orchestra before joining Vienna in 2002, revealed in January that he had oesophageal cancer.
A 14 December concert at New York's Carnegie Hall is scheduled to go ahead.
At a press conference in January, Ozawa announced the cancellation of about 30 concerts at home and abroad planned for the first six months of the year.
He is also the founder and artistic director of Japan's annual Saito Kinen Festival.
Related Internet Links
The BBC is not responsible for the content of external sites.