Costs of train carriage procurement to be reassessed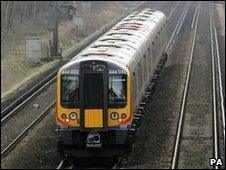 An "urgent reappraisal" of the government's train carriage procurement programme has been ordered by Transport Secretary Philip Hammond.
He said each project would be "rigorously re-assessed" to ensure it offered value for money for taxpayers.
The Department for Transport (DfT) must find £683m in savings.
Meanwhile, a National Audit Office (NAO) report said plans for increasing rail capacity may not provide value for money and should be reviewed.
These fears were expressed because costs, particularly of rail carriages, had risen at the same time as the recession had reduced the DfT projections of passenger demand.
The number of journeys taken on Britain's rail network has almost doubled in the last 10 years.
Some 1,300 new carriages were promised by the Labour government by 2012 to deal with overcrowding.
By March this year, 526 had already been delivered, but it is thought that only about another 100 will be ready over the next two years.
But the NAO has questioned whether they are actually needed since it says predicted passengers numbers may not be accurate because of the recession.
The transport secretary welcomed the NAO report, which he said "reinforces" his "concerns about Labour's announced new carriage procurement programme".
"Since that announcement was made in 2007 the growth in passenger numbers has not materialised and costs have soared, leaving Labour's plans in tatters," he said.
Mr Hammond said the government had inherited a situation in which, according to the NAO, "significantly fewer new trains will be delivered for the money committed than were promised to passengers".
Meanwhile, NAO head Amyas Morse said the DfT had "used a broadly sound framework to develop plans for adding capacity to the rail network" but they had been developed "in a stronger economic climate".
But he went on: "We believe that it needs to implement these plans flexibly in light of current conditions, in order to protect value for money, and to be continually looking to drive down the costs of rail improvement works."
Related Internet Links
The BBC is not responsible for the content of external sites.