Religious leaders denounce Arizona immigration law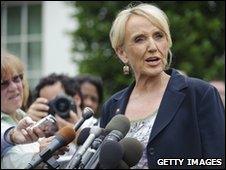 Religious leaders in the US and Latin America have denounced Arizona's controversial new immigration law.
The law requires police to question people about their immigration status, if officers suspect the person is in the US illegally, and if they have stopped them for a legitimate reason.
Archbishop Rafael Romo Munoz, of Tijuana, Mexico, said it was "inhuman".
The criticism came as President Barack Obama, who says the law is misguided, met Arizona Governor Jan Brewer.
Mr Obama has made immigration reform a priority, amid pressure from US border states for action to help curb illegal immigration and drug violence.
Last month, he said he would seek more funding and deploy up to 1,200 extra troops to help secure the US-Mexico border.
Civil rights groups have said Arizona's new law paves the way for widespread discrimination against Hispanics.
The legislation, which is set to take effect on 29 July, will also make it a crime to be in Arizona without immigration papers.
Bishop John Wester of Salt Lake City, head of the US bishops' committee on migration, warned it could lead to racial profiling and create divisions between the police and immigrant communities.
Archbishop Munoz said the measure would "make it possible to detain someone based on their external appearance".
He added: "This law in Arizona is truly anti-humanitarian. It's inhuman."
During a half-hour meeting at the White House, Ms Brewer called for the completion of a fence between Arizona and Mexico and told Mr Obama that Americans "want our border secured".
Mr Obama emphasised his view that the law was discriminatory and that Arizona's move - and similar efforts by more than 20 other states - would interfere with the federal government's task of enforcing immigration policy.
He urged Ms Brewer to "be his partner" in overhauling the country's troubled immigration system.
In a press conference following the meeting, Ms Brewer said that although the two had had a "very cordial conversation", there were clearly issues on which they did not agree.
"We agreed to try to work together in order to find some solution" to issues like immigration and security, the govenor said.
She added: "We know we are not going to agree on certain issues until other issues are worked out."
Ms Brewer said the president had told her most of the 1,200 extra National Guard troops being sent to the US-Mexico border would be going to her state.
About 200 protesters waved signs and chanted "Jan Brewer, shame on you!" in front of the White House as the pair met.
Ms Brewer said in April that the new law would strengthen border controls in Arizona, which borders Mexico.
The governor also claimed that she was forced to act because the federal government had failed to tackle illegal immigration.
Mr Obama has called the new measure by Ms Brewer a "misdirected expression of frustration" at the federal government's inability to act.