Health services under spotlight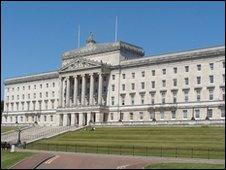 A health board chief executive has hinted that the Mater Hospital in Belfast could become a local hospital as a result of reshaping how services are delivered.
Chief Executive of the Health and Social Care Board John Compton was addressing the health committee.
Mr Compton said the board was looking at how all acute services across Northern Ireland are provided.
His comments were prompted by a question from the Chairman of the Health Committee, Jim Wells.
He asked Mr Compton about information contained in a document which indicated the Mater could eventually become a local hospital.
Mr Compton said: "There are clearly sensible roles that each facility should have."
"This is not about running around closing places all over the shop - that doesn't work.
"But it is about ascribing proper and responsible roles for each of our facilities," he said.
Mr Compton said the move, which would be a transitional one, could be in place by 2013.
On Thursday, the health committee heard from the most senior people within the health service including the Health Minister, Michael McGimpsey.
They were there providing detailed plans on how services will be delivered and within the constraints of the budget.