UVF sanctioning of Bobby Moffett murder investigated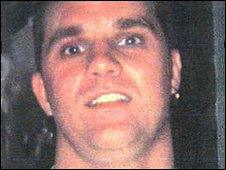 Police have said they are investigating whether the murder of Bobby Moffett was sanctioned by the UVF leadership.
Speaking after a meeting of the Policing Board, Assistant Chief Constable Drew Harris said involvement of the UVF hierarchy was a possibility.
Mr Moffett, 43, believed to be linked to the UVF, was shot dead by two masked men on the Shankill Road last Friday.
"There are a number of suspects that we would believe would be linked to the UVF," ACC Harris said.
"So that is a very serious development and an active line of enquiry that we are pursuing."
ACC Harris said the UVF remained a coherent organisation.
"The UVF remains very much an organised entity.
"So I wouldn't recognise a description which described them as being fractured in any way. They are a group which still has its own internal discipline intact."
He added: "It is very sinister in terms of the direction the UVF is taking as a group, but they are a terrorist group and that's how they remain."
Mr Moffett's funeral is to take place on Friday.
Tensions have been rising in the area since the murder and several people have said they have been threatened not to attend the funeral.
Progressive Unionist Party Dawn Purvis resigned from the party in protest at Mr Moffett's murder.