Leeds Castle's caged toucans play 'Kerplunk'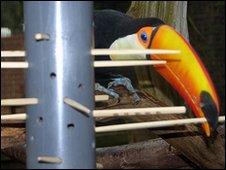 Rare birds living in an aviary in Kent are keeping active by playing a game that was developed for people in the 1960s.
The toco toucans are playing a specially-adapted version of Kerplunk in their cage at Leeds Castle.
In the human version of the game, people draw sticks out of a tube and try not to let any of the marbles inside fall through.
But the birds have to draw out a stick so their favourite fruit falls out.
Mairee Vincent, from the aviary team at the castle near Maidstone, explained: "The device requires the birds to solve a problem.
"They need to work out how to remove the chopsticks from the suspended tube in order for their favourite fruit to drop down and fall to the floor, whereupon they can eat it."
And curator of birds Laura Gardner said: "People worry about caged birds, which is why we work to make their environment as real as possible."
"Toucan Kerplunk" was voted "best environmental enrichment device" by delegates at a conference on issues affecting the lives of captive animals, she added.
Ms Gardner said: "To win this award shows how seriously we take environmental enrichment at Leeds Castle, making the best of the birds' living conditions.
"This stimulation improves the welfare of the bird and encourages natural behaviour."
The aviary has more than 100 species of birds and is working to breed and preserve threatened species.
It is thought to be one of two zoos to be breeding the toco toucan in the UK.
Leeds Castle has posted footage of the toucans enjoying their game on YouTube.
Related Internet Links
The BBC is not responsible for the content of external sites.