Royal Mail paid Adam Crozier £2.42m in his final year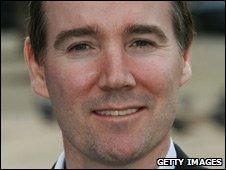 The main postal union has reacted with "outrage" to the news Adam Crozier, Royal Mail's former boss, was paid £2.42m in his final year with the group.
The figure was revealed in Royal Mail's annual report, which said Mr Crozier got a basic salary of £633,000.
On top of this he had a bonus of £1.5m for meeting performance targets over three years, £206,000 in lieu of a pension, and £19,000 of other benefits.
The Royal Mail said it needed to be able to attract the best talent.
Mr Crozier left the Royal Mail before Easter to take up the top job at ITV.
"Postal workers will be outraged by news of Crozier's salary and bonus," said CWU deputy general secretary Dave Ward.
"Adam Crozier's bonus came after a year in which he oversaw a national postal strike, lost the confidence of his workforce and then left before the job of modernisation and business transformation was complete."
The Royal Mail also revealed the remuneration packages of other board members for the last financial year.
Alan Cook, the former managing director of the Post Office, earned £1.25m, while Royal Mail finance director Ian Duncan was paid almost £1.4m.
Letters managing director Mark Higson received £1.73m.
Royal Mail has defended the level of the pay packages.
"These directors are running a business with a turnover in excess of £9bn in a tough market place, and Royal Mail needs to be able to attract from the commercial market the best management talent," said Royal Mail chairman Donald Brydon.
Mr Ward said the other pay deals across the Royal Mail's board were equally excessive.
"Postal workers will be equally horrified at the pay given to other senior executives," he said.
Related Internet Links
The BBC is not responsible for the content of external sites.