New mural replaces old graffiti in Coleraine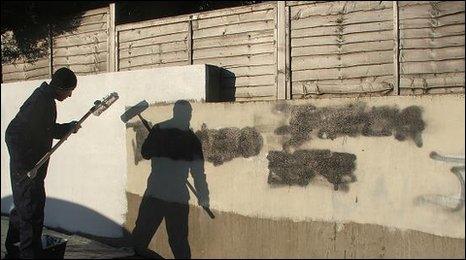 Sectarian slogans and negative graffiti on a Coleraine wall have been replaced by a new mural.
The regeneration project, which cost £12,236, will be unveiled in Pates Lane, Coleraine on Friday.
Local businesses and residents, including children and young people worked with artist, Mark Christie and historian Dr Bob Curran, to create the installation.
It depicts images of the area from the past, present and future.
Local features appearing in the mural include the Old Court House, Mary Rankin Hospital, Coleraine Harbour and the River Bann.
The mural was funded through the Arts Council led Re-imaging Communities Programme.
Roisin McDonough, Chief Executive of the Arts Council of Northern Ireland, said: "The programme has "provided residents and community groups with the means to reclaim their neighbourhoods and restore civic pride, which are key steps on the road to sustainable regeneration.
"The residents of Pates Lane have breathed new life into the area by creating a welcoming communal space which everyone can enjoy," she said.
"The new artwork is a result of the community's hard work and dedication."
When the Re-imaging Communities Programme was launched in July 2006, it had a budget of £3.3m.
It aimed to deliver 60 to 80 community-based projects within three years, restoring pride to local neighbourhoods
However, the response to the initial pilot phase from local councils, community and voluntary groups throughout Northern Ireland outstripped the available funding.
A further £500,000 of funding was allocated to the re-imaging programme in October 2008 through the Department of Culture, Arts and leisure.
There have now been 155 projects awarded funding.
Related Internet Links
The BBC is not responsible for the content of external sites.