'Boycott' call as talks continue over Cambridge fair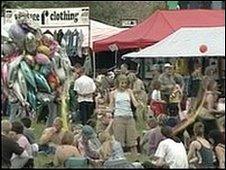 Organisers of a Cambridge festival called off after a row over licensing, have appealed for people to boycott any unofficial gatherings.
The committee who run the annual Strawberry Fair fear any impromptu events may jeopardise its future.
The Strawberry Fair was planned for Saturday but cancelled after police challenged the licence granted by Cambridge City Council.
Police are mounting extra patrols in case any groups attempt to gather.
Supt Mike Brown said earlier this week: "Whilst no formal event is going ahead this year, there will be additional police officers working over the period in anticipation of likely impromptu gatherings.
"We are aware of communications between a number of groups and individuals about meeting up in place of Strawberry Fair.
"As always, public safety is of the greatest importance and if we have any concerns about this, or any offences are revealed, they will be dealt with proportionately."
Meanwhile the Strawberry Fair Committee has issued an appeal for people to stay away from Midsummer Common on Saturday because any unofficial gathering could damage the reputation or future of the fair.
Mediated talks between the police and organisers are continuing and both parties said they had been constructive.
Chief Superintendent Rob Needle said: "All parties are committed to coming to an agreement over the successful running of next year's Strawberry Fair and beyond.
"Progress has been made towards a future event that will maintain the spirit of the fair, public safety, full control of the site and responsibility to licensing objectives."
In March police challenged the granting of a licence by the city council.
Then the fair committee said the effort needed to ensure an premises licence would take up too much volunteers' time and cancelled the festival.
Related Internet Links
The BBC is not responsible for the content of external sites.