'I owe my existence to Winston Churchill'
By Giancarlo Rinaldi
South Scotland reporter, BBC Scotland news website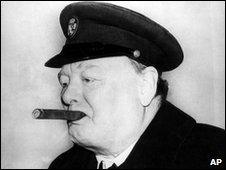 In a roundabout way, I am only here thanks to Winston Churchill.
He was the prime minister who ordered the internment of Italians in Britain after Mussolini's declaration of war in 1940.
It set in action a chain of events which changed my grandmother, Lina Pioli's life forever.
Her husband, Peter Moscardini, was one of those rounded up before it was decided he should be deported to Canada.
The vessel intended to take him there was the Arandora Star.
That ship was sunk by a German U-boat in July 1940 resulting in the loss of hundreds of lives.
Peter survived but his reward was to be packed up almost immediately afterwards and put on another ship heading to Australia.
He never recovered from those events and died in January 1942 and was buried at the Barmera Cemetery in Adelaide.
My grandmother received a picture of his last resting place from the Directorate of Graves Registration at the Victoria Barracks in Melbourne.
She was a widow at the age of 26.
At the same time as her husband was going through the ordeal which would claim his life, my grandfather, Romeo Rinaldi was going through some traumatic times of his own.
When I was 19 I spent a year in Italy teaching English at a secondary school on the outskirts of Florence.
The man I would later call my "nonno" was the same age when he passed 12 months in Barlinnie Prison in Glasgow.
He had been born in the city but returned to Italy as a child.
That meant he was called up to the British army and when he refused to go he was classed as a conscientious objector and sent to prison.
It was a time he never spoke to me about, he died when I was 13.
He did, however, write a lot of poetry and tried to capture his feelings at the time.
For a boy from the Garfagnana valley in Tuscany it was like being "seppolto vivo" - buried alive.
He wrote: "I saw a giant wall around me, that seemed to be without end.
"I felt the blood rush to my head as I thought: whoever comes here never gets out."
He was, however, released from prison and his path crossed that of my grandmother.
They married in 1943 and the following year my father was born followed by two brothers.
They, in turn had children and grand-children, as the roots of the Rinaldi family spread out across Scotland.
My grandfather was a fish and chip man all his days but his descendants have gone into a wide range of professions, like so many immigrant families.
Looking back, it's hard to imagine a time when Italians were considered a threat to national security.
But if they had not been, I suppose, I might never have been able to try to tell their tale.