Woman in knife attack house 'screamed for help'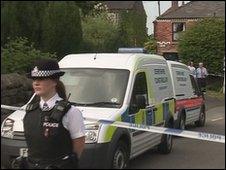 The neighbour of a 38-year-old mother who was fatally stabbed in her home along with her 23-month-old son has said she saw her screaming for help.
Rachael Slack and her son Auden died after the incident in Holbrook, near Belper, Derbyshire, on Wednesday.
Neighbour Norma Way said the victim shouted to her from a window: "Norma, Norma, call the police."
It has emerged 44-year-old Andrew Cairns, from Ripley, also found dead there, had been arrested last week.
Derbyshire Police said Mr Cairns was the toddler's father.
After police forced their way into the house in Well Yard, off Town Street, the child was taken by air ambulance to hospital but died later.
Friends of the woman said the man had been making threats in the days before the killings.
The case has now been referred to the Independent Police Complaints Commission (IPCC).
Derbyshire Police confirmed Mr Cairns had previously been arrested and as a result of this contact the matter had been referred to the IPCC.
An IPCC spokeswoman said: "We are presently assessing the available information before deciding what involvement by the IPCC is required in an investigation.
"We aim to make a decision as soon as possible in the wake of these awful events."
Post-mortem examinations conducted by a Home Office pathologist revealed they died as a result of stab wounds.
Ms Way said she had seen the mother screaming from the window of her three-storey cottage.
The 70-year-old said: "She looked out of the side window, which is in front of my drive, and I heard her screaming in terror.
"I was the one who called the police. She started shouting to me: 'Norma, Norma, call the police.'
"The man, I couldn't see, but he had raised his arm. I went to the front door but it was locked. When the police arrived they both went in but by then the screaming had stopped."
Police said they were not looking for anyone else in connection with the deaths.
Related Internet Links
The BBC is not responsible for the content of external sites.