India's bureaucracy is 'the most stifling in the world'
By Chris Morris
BBC News, Delhi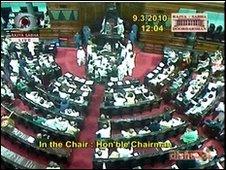 A new report has confirmed what many Indians have long suspected - their country's bureaucratic system is one of the most stifling in the world.
The Hong Kong based group, Political and Economic Risk Consultancy, surveyed more than 1,300 business executives in 12 Asian countries.
The poll suggested India had the worst levels of excessive red tape.
Yet this seems not to have impeded performance - it has just released another set of strong growth figures.
But for many foreign companies that success is despite rather than because of the system they face, the report says.
There has so far been no response to the report from the civil service.
Bureaucracy and corruption
The report ranks bureaucracies across Asia on a scale from one to 10, with 10 being the worst possible score. India scored 9.41.
Frequent promises to reform the bureaucracy, the report says, have come to nothing, mainly because the civil service is a power centre in its own right.
Starting a business in India is incredibly hard, and enforcing contracts can be nigh on impossible.
There is a strong link, the report says, between bureaucracy and corruption - and a widely held belief that bureaucrats are selfish and highly insensitive to the needs of the people they are supposed to help.
None of this will come as any surprise to most Indians, or to many within the civil service itself.
A recent survey of the Indian bureaucracy found large numbers of civil servants complaining of undue political interference, and a widespread fear that anyone questioning the system would be transferred to obscure postings in bureaucratic backwaters.
Given the level of dissatisfaction among foreign business executives and Indians themselves, the Political and Economic Risk Consultancy report poses an interesting question: just how much better could India be doing if it were able to reduce bureaucracy?
One consequence, it believes, is that the inertia generated by a stifling bureaucratic system will, in the medium term, prevent India matching the growth rates of its great Asian rival China.
Related Internet Links
The BBC is not responsible for the content of external sites.