RE inadequate in one in five schools, Ofsted says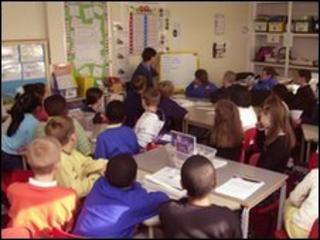 Religious education is "inadequate" in one in five secondary schools in England, according to watchdog Ofsted.
Its study suggested many teachers were unsure of what they were trying to achieve in the subject.
Inspectors, who visited 183 primary and secondary schools in 70 areas, also criticised schools for not providing enough training in religious education.
The Church of England said the report was concerning but the National Secular Society said RE should become optional.
Quality decline
Ofsted chief inspector Christine Gilbert said: "This report highlights two things - first the need for better support and training for teachers and, secondly, the need for a reconsideration of the local arrangements for the oversight of RE, so schools can have a clear framework to use which helps them secure better student achievement in the subject."
The report, Transforming Religious Education, found the quality of religious education had declined since 2007.
RE is not part of the National Curriculum and the content of lessons is determined at a local authority level.
Ofsted found that there was a wide variety in the amount of support and training provided to schools by local authorities.
However the study praised both primary and secondary schools for supporting the appreciation and understanding of pupils from different faiths.
Jesus's parables
Students who took part in the survey were unable to describe their progress in RE, with many young people unsure of what they needed to do to improve.
In the primary schools questioned, many teachers were uncertain whether Christian material should be investigated in class or whether it should be used to consider moral or social themes.
In one school, some teachers used Jesus's parables to explore personal feelings or to decide how people should behave, but without using any reference to their religious significance.
Reverend Janina Ainsworth, the Church of England's chief education officer, said: "These findings suggest an urgent need for the government to invest in religious education, both in terms of high-quality resources and attracting and training specialist teachers.
"Given the role that the report suggests RE has in promoting community cohesion, that investment will pay dividends far beyond the education of individual students."
The survey, which did not include faith schools, recommended a government review of the way religious education is handled across England.
Ofsted said local authorities could offer more guidance in the subject and suggested that schools take pupils on trips outside of the classroom, as well as ensuring that RE promotes students spiritual development.
The survey also recommended that the Department of Education established ways to hold local authorities to account.
The National Secular Society said the report showed more people were drifting away from religion.
"Teachers as well as pupils are mostly indifferent to the subject and it is wrong to force it on to them," said president Terry Sanderson.
"Ofsted have reached entirely the wrong conclusion. Religious education should now become an optional subject, like languages. "
He said that if RE was to continue in its current form, it needed to be used as a "springboard" for exploring issues in a multi-faith society.
In 2007, the Religious Education Council of England and Wales recommended an overhaul of religious education, including a co-ordinated programme of training.
However the suggestions were not implemented by the then Department for Children, Schools and Families.