EastEnders to re-shoot Lucas prostitute scene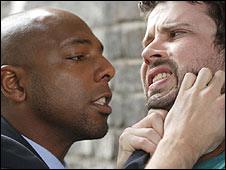 EastEnders is to re-shoot a scene involving Lucas and a prostitute in the wake of the Bradford murders.
In an episode to be shown next week, the troubled character was to be seen picking up a girl in a red light area and attempting to strangle her.
A spokeswoman said it would "ensure we do not cause distress to the families involved in these tragic events".
Student Stephen Griffiths has been charged with the murders of three female sex workers in Bradford.
"EastEnders storylines are written many months in advance and any similarity to real life events is coincidental," said the spokeswoman.
But she added that this was an exceptional occasion when changes would need to be made.
Preacher Lucas, played by Don Gilet, has been involved in a number of hard-hitting storylines.
The planned storyline was to see him pick up a young woman called Jade from a red light area, asking her to pray for forgiveness and then apparently attacking her.
Wednesday night's edition of Coronation Street was postponed in the wake of the Cumbria shootings as it was to feature an ongoing armed siege.