Pakistan bank governor resigns two days before budget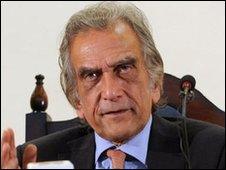 Pakistan's central bank governor has resigned citing "personal reasons", the finance ministry has said.
News of Syed Salim Raza's resignation comes two days before the announcement of the 2010-11 federal budget.
The finance ministry said he submitted his resignation on 6 May. Correspondents say it is not clear why the news has only now been made public.
Deputy Governor Yaseen Anwar has been appointed by President Zardari as acting governor to replace Mr Raza.
"We don't know what the reasons are for the resignation, but the timing of it can be worrisome," economist Sayem Ali told the Reuters news agency.
"It is right before the budget is announced and relations with the International Monetary Fund (IMF) are in a bit of a difficult stage."
Officials say there is a strong likelihood that Mr Raza's resignation was not solely due to personal reasons and that there was an ongoing tussle between him and the government.
Mr Raza was appointed State Bank governor in January 2009 and would have left in February 2011 after reaching retirement age, which is 65 under State Bank law.
The BBC's M Ilyas Khan in Islamabad says that many believe his was a controversial appointment and did not fit the relevant legal provisions.
The State Bank of Pakistan Act provides that the governor be appointed for a three-year term, which can be extendable for another three years.
Our correspondent says that because of his age, there was no way that Mr Raza could have completed even his first three-year term.
A source told the BBC he resigned when his request for an extension was turned down by the government, which has the power to grant an extension of service to a capable incumbent beyond retirement age.
Correspondents say although he had little direct impact on the federal budget, Pakistan's financial institutions have been under pressure from the IMF to make painful reforms.
Related Internet Links
The BBC is not responsible for the content of external sites.