European markets rise as US data bolsters recovery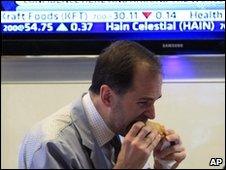 European shares rose on Thursday, buoyed by strong home and car sales data from the US on Wednesday.
The UK's FTSE 100 index ended up 1.2% or 60 points to 5,211, while France's Cac added 1.6%, and Germany's Dax 1.2%.
The gains came after US data on Wednesday showed pending home sales hit a six-month high in April, while May's car sales were up 18% from a year ago.
Wall Street's Dow Jones later finished flat after ending Wednesday trading 2.3% higher.
The Dow finished up six points or 0.06%.
The latest US figures have increased optimism that the recovery in American consumer spending is gathering pace.
Sentiment was further increased by data later on Thursday showing a rise in both US factory orders and the output of the service industries.
Greater risk appetite was also reflected in the currency markets, where the pound continued to recover against the dollar, rising over 1% to $1.47.
Meanwhile, the Japanese yen, which has become a haven currency since the financial crisis, weakened against the dollar to 92.7 yen.