DR Congo human rights activist found dead in Kinshasa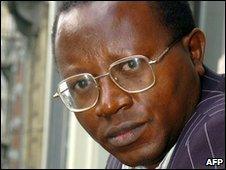 A leading rights activist in the Democratic Republic of Congo has been found dead in the capital, Kinshasa.
Floribert Chebeya's body was discovered, partially clothed, on the back seat of his own car.
A BBC reporter says Mr Chebeya had received regular threats from police in the past, and had been ordered to meet the national police chief on Tuesday.
Rights group Amnesty International says oppression of activists in DR Congo is growing.
The BBC's Thomas Fessy in Kinshasa says condoms and traces of female hair were found in the car, and that Mr Chebeya's driver had gone missing.
It is unclear whether or not the meeting between the head of the national police force, John Numbi, and Mr Chebeya went ahead.
Mr Chebeya sent a text message to his wife saying that he was at the police headquarters for the meeting, but no more was heard from him after that, our reporter says.
Mr Chebeya was head of the rights group Voice of the Voiceless and had been campaigning in defence of democracy and human rights in DR Congo since the early 1990s.
"We are stunned and appalled by the suspicious death of such a prominent and respected human rights defender," Veronique Aubert, Amnesty's deputy Africa director, said in a statement.
The London-based rights group has called for an investigation into his death.
Related Internet Links
The BBC is not responsible for the content of external sites.