Libraries in Wales see borrowing rise, against UK trend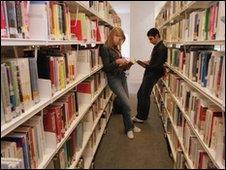 Book borrowing from public libraries in Wales is on the rise, according to latest figures.
Welsh libraries enjoyed the biggest percentage increase in visitors and book issues in the UK last year.
In 2008/09 there were almost 14m visits to Welsh libraries, an increase of 3.7% on the previous year.
This compares with a year-on-year decrease in England of 1.4%, a decrease of 4.1% in Northern Ireland and an increase of only 0.4% in Scotland.
The number of book issues by Welsh public libraries went up by 6.8% to 14.45m compared to an increase of 0.6% in England, 1.7% in Scotland and 3.6% in Northern Ireland.
The figures, released by the Chartered Institute of Public Finance and Accountancy, also show that Wales is the only country to show an increase in the number of visits per 1,000 of the population, by 3.2%.
Wales is also the only country to show an increase in the number of active borrowers, up by 1.1%, compared with drops in all other three countries.
The busiest library in Wales was Swansea, with over 565,000 loans, followed by Wrexham (354,754) and Cardiff Central Library, which was in temporary accommodation, (351,680).
Swansea was also the 10th busiest library in the UK in terms of items loaned per annum.
Cllr Graham Thomas, Swansea Council's cabinet member for culture, recreation and tourism, said: "Libraries across the city are once again becoming the heartbeat of the communities they serve and the traditional perceptions of dusty bookshelves have been banished.
"Libraries in Swansea are now places for the whole family where a huge variety of information technology equipment, books, CDs, DVDs, activities and other services is easily accessible.
"The challenge now is to maintain this enormously satisfying level of popularity."
Julian Mund, CIPFA's cirector of operations, said: "Congratulations to Swansea Central Library on lending so many books.
"While the CIPFA survey shows that many users are accessing services online, it's clear that libraries remain as popular and relevant as ever."
Heritage Minister Alun Ffred Jones said: "Libraries provide an important role in the community and the Welsh Assembly Government is committed to supporting them.
"Aside from providing a wide range of books, DVDs and CDs for borrowing and reference, libraries offer a meeting place for many local groups, special events and internet services."
Last month the Welsh Assembly Government announced about £3m in capital grants to help modernise 12 public libraries and develop library services during 2010/11.
Related Internet Links
The BBC is not responsible for the content of external sites.